Novak Djokovic ensured he will finish the year ranked world No 1 for an eighth time after battling to a late-night victory over Holger Rune in his opening match at the ATP Finals.
Djokovic is chasing a record seventh title but again found 20-year-old Rune, who is making his debut at the eight-man event, a troublesome opponent before pulling off a third win in five meetings.
It was past midnight in Turin when Djokovic completed a 7-6 (4) 6-7 (1) 6-3 victory after three hours and four minutes on court.
Rune has fared much better against Djokovic than most of his rivals over the last couple of years, beating him in Paris last autumn and Rome in the spring before a narrow defeat in the French capital a week-and-a-half ago. The Serbian went on to claim the Masters series title.
It was Rune who struck first with a break to lead 3-2 but Djokovic hit straight back and the high-class set went all the way to a tie-break, which the top seed took with a forehand smashed cross-court past his helpless opponent.
Rune reacted well, breaking again to lead 2-0 in the second set, but once more Djokovic found the immediate response, and a strong serve foiled the young Dane when he forced a set point at 4-5.
He has won at least a set against Djokovic in every match they have played, but he had a helping hand in setting up a decider, his rival playing a highly unusual lacklustre tie-break.
Djokovic broke straight away to start the deciding set, only for this time Rune to recover the deficit immediately. A frustrated Djokovic stamped on two rackets and snapped the frames, but he broke again to lead 4-2 and this time there was no way back for Rune.
Djokovic told Prime Video: "It took everything. I saw in the first game when he fired shots from the baseline, I knew it was going to be a tough night for me. I thought he played great. I played great in some moments.
"Overall a win is a win. It was a very emotional win and a tough win knowing the significance of tonight's match. After a really terrible second-set tie-break I think I played a really solid third set."
Home hero Sinner gets off to winning start
Sunday afternoon saw Italian Jannik Sinner delight the Turin crowd by defeating Stefanos Tsitsipas in the opening singles match of the event. The 22-year-old played as an alternate two years ago but qualified for the first time this season after claiming four ATP Tour titles and rising to world No 4.
He is one of the favourites to lift the trophy this week, which would be the dream scenario for the home fans, and a 6-4 6-4 victory over Tsitsipas is a big step towards the semi-finals.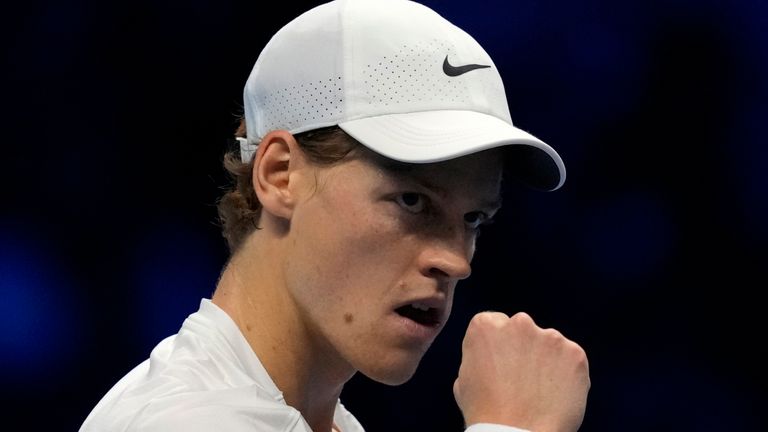 There had been doubts over the Greek's fitness heading into the event and he failed to force a break point on the Sinner serve during the 85-minute contest.
"I was excited to step on court and opening the finals is really, really special," said Sinner on atptour.com. "I knew it was going to be very tough but I think I handled the situation well. I tried to stay aggressive and I am very happy with the performance. I am happy to start off with a win and hopefully I can continue with this intensity."
Spanish star Carlos Alcaraz headlines Monday afternoon's action as the reigning Wimbledon champion takes on Alexander Zverev, while the evening match sees Daniil Medvedev face Andrey Rublev.
Stream your favourite sports without a contract through NOW.