Jacksonville Jaguars. Detroit Lions.
Two of the harder sells in terms of the NFL in recent years. Decades even.
The two teams form part of a foursome of franchises to have never before reached a Super Bowl, joining the Cleveland Browns and Houston Texans as the only teams never to do so.
The Lions haven't even been to the playoffs in seven years and, staggeringly, are without a postseason win since the 1991 season!
The Jaguars' recent history isn't quite so bleak perhaps. Established as a franchise four years after Detroit's last playoff win, they actually shocked the world with a run to the AFC Championship game in just their second season, getting back there again in 1999 and, more recently, in 2017.
Last year, after a few barren seasons which saw them earn the No 1 pick in back-to-back NFL drafts (2021 and 2022), Jacksonville again made the playoffs, riding the coattails of the very man they selected first overall in the first of those drafts, quarterback Trevor Lawrence.
They pulled off a remarkable 27-point comeback to beat the Los Angeles Chargers 31-30 in the wild card round, and then pushed eventual champs the Kansas City Chiefs all the way before ultimately succumbing to a 27-20 defeat in their divisional matchup.
The Chiefs (7-2) are again top dogs in the AFC through the opening nine weeks of the 2023 season, while last year's NFC winners, the Philadelphia Eagles (8-1), are again sitting pretty on their perch. But, below both, poised, ready to pounce are the Lions (7-2) and Jaguars (6-2) at second and third in their respective conferences.
There is a new elite forming in the NFL and we've got to get used to the unusual sensation of seeing Detroit and Jacksonville very much at the heart of it.
Gone are the days of the Bill Belichick-Tom Brady axis in New England that saw the Patriots sweep all before them in claiming six Super Bowl titles (seven for Brady when you add in his three-year dalliance with the Tampa Bay Buccaneers), and while storied franchises like the Miami Dolphins, San Francisco 49ers and Dallas Cowboys are all certainly in the mix, it has been a long time since any of them got their hands on the Vince Lombardi Trophy.
Could we be witnessing the start of the era of the Jaguars? Or is there a dynasty forming in Detroit?
We'll get the chance to see both squads up close and personal this Sunday, when Jacksonville host the 49ers (6pm kickoff) and the Lions then travel to Los Angeles to take on the Chargers (9.05pm kickoff) – both games live on Sky Sports NFL and Main Event.
Campbell's 'kneecap biters' delivering on promise
But what has led to the sudden optimism for these two down-trodden NFL teams? It starts with the coaching and, specifically, the two leaders entrusted with establishing a winning culture and turning the teams' fortunes around.
Dan Campbell certainly got everyone's attention when, at his introductory press conference with the Lions in 2021, he said: "This team's going to be built on: we're going to kick you in the teeth, all right, and when you punch us back, we're going to smile at you and when you knock us down, we're going to get up. And, on the way up, we're going to bite a kneecap off.
"And, we're going to stand up, and then it's going to take two more shots to knock us down. And, on the way up, we're going to take your other kneecap, and we're going to get up and then it's going to take three shots to get us down. And, when we do, we're going to take another hunk out of you. Before long, we're going to be the last one standing. That's going to be the mentality."
Campbell's kneecap-biters took a while to work up an appetite, however, with a 3-13-1 season following in his debut campaign, before a 1-6 start to 2022 had him firmly on the hot seat.
Eight wins followed over Detroit's final 10 games, the team agonisingly falling short of a playoff spot but the coach earning a stay of execution which he has certainly made the most of.
The Lions bettered the defending-champion Chiefs in a thrilling 2023 season-opener, and have only been bested by the Seattle Seahawks (5-3) and Baltimore Ravens (7-2) so far this year. They rank second, behind only the explosive Dolphins, in total offense, registering 390.6 yards per game, while their underrated defense is top five, allowing only 296.9 YPG.
The fulcrum of the Lions defensive unit is second-year standout Aidan Hutchinson. The sophomore star has 4.5 sacks this year following the 9.5 the Michigan alumni registered in his rookie campaign, while he also has a pick to go with the three he logged last year.
It's another way in which the Lions and Jaguars will be linked, and the success of both teams compared, over the next decade, as Hutchinson was taken with the No 2 overall pick in the 2022 NFL Draft, having been overlooked by the Jaguars, who owned the first selection.
Jacksonville instead opted for Travon Walker out of Georgia, the NFL Combine stud with the eye-catching measurables. Though he didn't flash as much as Hutchinson in his rookie season, there are signs to suggest Walker is coming good on that selection, with his 3.5 sack total this year already matching his tally for 2022.
He forms part of an imposing Jaguars defense that ranks in the top-10 in scoring, allowing only 19.5 points per game, and is tied with the New Orleans Saints for the most takeaways this season with 18 (11 interceptions, seven forced fumbles).
Josh Allen, namesake of the Buffalo Bills quarterback, has two of those forced fumbles to his name and is the standout on Jacksonville's defense, with his nine sacks for the year already placing him only one behind league-leader Danielle Hunter of the Minnesota Vikings and on course for a career-best total to beat his 10.5 set in his rookie 2019 season.
The Jaguars are currently in the midst of a five-game win streak, coming off their bye, as they get set to welcome San Francisco this Sunday. Their only losses on the year came in consecutive weeks when dropping games to Kansas City and Houston following an opening win over the Indianapolis Colts.
It's all a far cry from the team that was in turmoil as recently as 2021 when then-head coach Urban Meyer was fired from the team midway through a dismal 3-14 season which saw him clash with both his coaches and players, as well as be caught up in a viral video scandal which appeared to show the married man dancing inappropriately with a women at a restaurant one day after a defeat to the Cincinnati Bengals.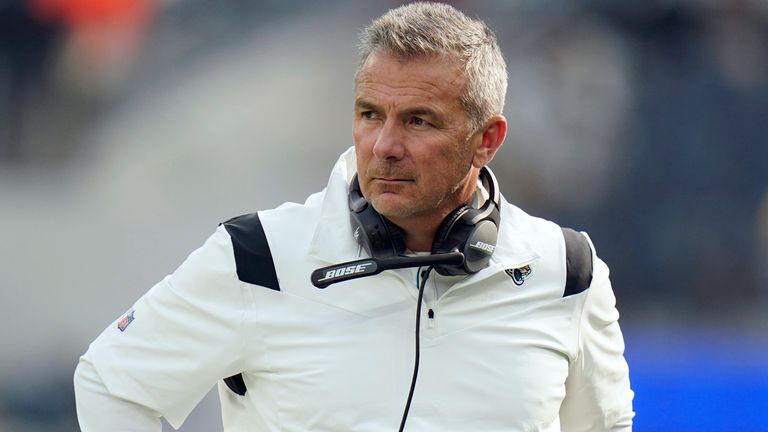 Lawrence leaves London a franchise quarterback
Doug Pederson, Super Bowl winner in 2017 with Philadelphia, came in and though the team got off to a slow 2-6 start, seven wins in nine followed to secure a playoff berth, with Lawrence in particular stepping up following a Week Eight loss to the Denver Broncos in London.
Lawrence completed over 70 per cent of his passes for an average of 252.6 yards per game down the stretch, returning a 102.6 passer rating and a sparkling 15-2 touchdown-to-interception ratio. He registered three 300-yard passing games over the final nine games of the season, matching his tally from the first 25 games of his NFL career.
But Lawrence isn't the only top-drafted quarterback delivering against his lofty position. Jared Goff, a former No 1 overall pick for the Los Angeles Rams in 2016, was much maligned for the first five years of his NFL career – in spite of taking the team to the Super Bowl in his third season – but he's enjoying quite the renaissance in Detroit.
Traded to the Lions in 2021 in a deal that also included two first-round picks in 2022 and 2023, and a 2021 third-round selection, in exchange for QB Matthew Stafford, Goff was viewed as nothing more than a stopgap at the position until such time as Detroit could find better.
But Campbell and co have stuck with him and are now reaping the rewards, with Goff throwing 29 TDs to only seven interceptions last season and having tallied 12 already this year, along with 2,174 passing yards which places him fifth in the NFL when broken down into yards per game (271.8).
The weaponry available to both Goff and Lawrence is plentiful also. They each boast a sizeable threat in the backfield, with Lions rookie Jahmyr Gibbs boasting a breakout performance of 189 scrimmage yards and a score in their latest win over the Las Vegas Raiders, while the Jaguars have Travis Etienne who saved his best for their win over the Bills in London as he racked up 184 scrimmage yards and two TDs.
In terms of pass-catching targets, Lawrence boasts Calvin Ridley and Christian Kirk in Jacksonville, while Goff has Amon-Ra St. Brown leading the way, backed up by promising second-year speedster Jameson Williams. There's also tight end talents Evan Engram (Jaguars) and Sam LaPorta (Lions), who by some strange coincidence both have 434 yards on the season to date – albeit the latter logging four TDs along the way.
Simply put, these two teams are stacked. And it's time the NFL took these two teams seriously as, who knows, we could well have a Super Bowl first-timer on our hands this season. Or two of them.
Watch the Indianapolis Colts take on the New England Patriots in Frankfurt, Germany live on Sky Sports NFL from 1.30pm Sunday, with kick-off at 2.30pm; the San Francisco 49ers then face the Jacksonville Jaguars from 6pm followed by the Detroit Lions at Los Angeles Chargers.