You probably only clicked on this link if you are an Phoenix sports fan. in which case, it was an angry click. So allow me to preface this by saying: I love the city of Phoenix. I have friends who live there. It's a gem of a city. And I have no ill will toward Phoenix or any of their pro sports teams. I like the Cardinals (currently the best new uniforms in the NFL, IMO), I think the Suns are dope, I hold no disdain toward the Diamondbacks (except for the fact they once employed Randy Johnson), and I, like everyone in Phoenix, never think negatively of the Coyotes mainly because we never think about the Coyotes.
So just know this blog does not come from a dick-ish place. I just legitimately have to ask…
Do Phoenix sports fans exist?
Look, people are asking. Phoenix sports fans, to me, are a lot like Los Angeles sports fans with the only difference being that I understand why LA sports fans don't always show up to sporting events. Have you ever been to Southern California?! There is so much to do. The beach, the mountains, the Madame Tussauds Celebrity Wax Museum on Hollywood Blvd. But when Phoenix fans don't show to games, what are they doing? Playing golf? Hiking the hills in the desert? Not that Phoenix is a boring city, because it's far from it. But there is no beach. There is no skiing mountains. And the temperature is usually hotter than Sam Hartman (or the people who live in Phoenix… hubba, hubba). If I was a Phoenix resident, sports would be my life. It allows you something other than real estate to invest in while getting you in an air-conditioned building. But for whatever reason, Phoenix fans continue to disappoint (aside from maybe Suns fans – shoutout Suns in four!)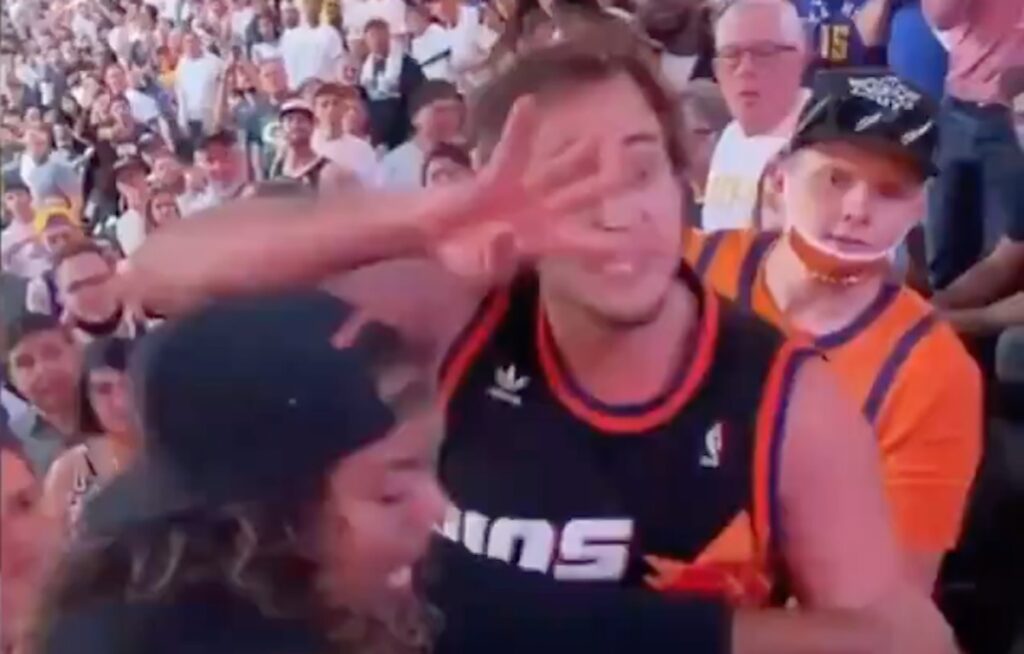 And by that, I mean… what is this, D-Backs fans?
The Diamondbacks haven't been to the NLCS since Britney Spears shaved her head, and yet you can get into this year's NLCS for cheaper than a month of Netflix. THAT SHOULD NOT BE THE CASE, SILICON DESERT. You have an exciting young MLB team that completely dismantled the 100-win Dodgers. Tickets to watch NLCS baseball in The Valley of the Sun should not be cheaper than tickets to Killers of the Flower Moon. But it's not just the Diamondbacks. When you pair that with the fact that every two weeks we get a headline about how the Coyotes are looking for a new arena it feels like their days in the desert feel numbered. In their entire season last year, they drew 188k fans in 41 home games. That's fewer than one Indianapolis 500 for an entire season. They average 4,600 fans per game. That's lower than most high school graduations. Look, I get that ice sports and climates where komodo dragons call home don't really mix, but still. And the Cardinals… well, they haven't allowed a whole lot to cheer for since 2015. So I'll give a pass there. But look, Phoenix, you have a team in the NLCS, maybe create more of a demand where the ticket to get in costs more than the beer at the game.
UPDATE (after the start of NLCS Game 3): If I'm going to knock them for the get-in price, I have to give props when they show up. The crowd for Game 3 looks solid, especially for a day game in a weekday. Well done, Phoenix. I'll eat my words for this game. With that said, if the D-Backs lose this game, please don't fail to show up for Game 4.