World Rugby said there was "insufficient evidence" to charge Bongi Mbonambi over alleged racial abuse of Tom Curry in Rugby World Cup semi-final; South Africa went on to win the Webb Ellis Cup for a record fourth time with a 12-11 victory over New Zealand in the final
Last Updated: 10/11/23 8:35pm
England flanker Tom Curry stands by his accusation that South Africa's Bongi Mbonambi racially abused him in the World Cup semi-final.
World Rugby found "insufficient evidence" to back up Curry's claim that he was racially abused by the Springboks player midway through the first half of the match in Paris.
Hooker Mbonambi has accused England of being "unprofessional" over the allegations, insisting "misunderstanding" arose because Curry failed to realise he was speaking Afrikaans, a common practice among the Springboks to ensure opponents do not understand their messages.
But Curry, whose girlfriend and family have since suffered online abuse, insisted "I heard what I heard."
"I didn't really want to speak about it from the start. For me, on both occasions, the ball was out of play. Me and Bongi were talking and there's no misunderstanding from my part," Curry told the Daily Mail.
"I went to the referee straight away. I heard what I heard. That's all I really want to say about it and I won't really be talking about it again.
"It was tough for my family, my girlfriend and my brother. It was a tough experience but it is what it is. The investigation's been done and that's all I want to say about it."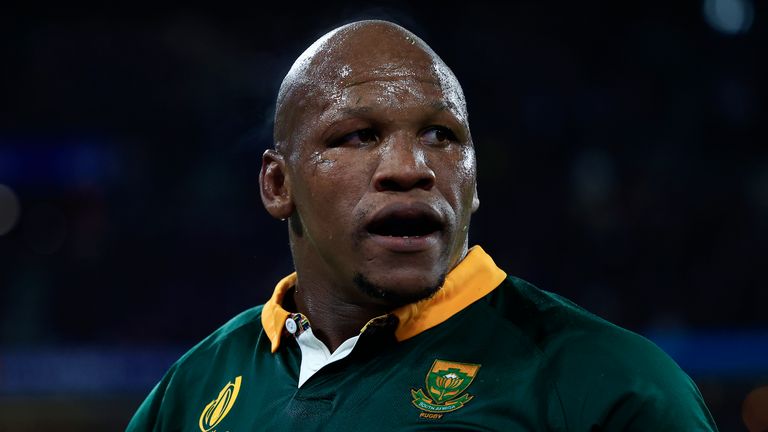 Earlier this week, Mbonambi called England "unprofessional" for alleging the South Africa hooker aimed a racial slur at Curry.
"I think it is a very sad thing when you live in a first world country [England], you think the rest of the world speaks English," he told BBC Sport Africa.
"It was unprofessional on their part. They could have gone on a website and looked for an English dictionary and looked for the word in Afrikaans.
"People understood [in South Africa] but obviously their side was misunderstood."
He added: "I'm glad it was well taken care of [by World Rugby] and that is all in the past now. But I have never racially swore at him."
Mbonambi was cleared to play in the final against New Zealand as South Africa claimed the Webb Ellis Cup for a record fourth time with a 12-11 victory.
World Rugby said it was "concerned" by the online abuse both Mbonambi and Curry suffered after the incident.
"It is important to note that World Rugby accepts that Tom Curry made the allegations in good faith, and that there is no suggestion that the allegation was deliberately false or malicious," a statement read.
The game's global governing body added that the case was "closed unless additional evidence comes to light".