Las Vegas Grand Prix chief executive Renee Wilm has led a team of women in planning and delivering the most anticipated race of the 2023 Formula 1 season; watch the inaugural Las Vegas GP on November 17-19, with every session live on Sky Sports F1
Last Updated: 10/11/23 6:13am
While Formula 1's upcoming Las Vegas Grand Prix will be ground-breaking for many obvious reasons, one of the event's most significantly progressive elements will be playing out behind the scenes. 
In what has historically been a male-dominated sport – both on the track and in the boardroom – Las Vegas Grand Prix chief executive Renee Wilm has led a team of women in planning and delivering the most anticipated race of the season.
With the owners of F1's commercial rights, Liberty Media, promoting a race themselves for the first time, the American organisation selected its chief legal and administrative officer Wilm to run the show.
"I'm obviously very honoured to have had the opportunity to oversee this event," Wilm told Sky Sports.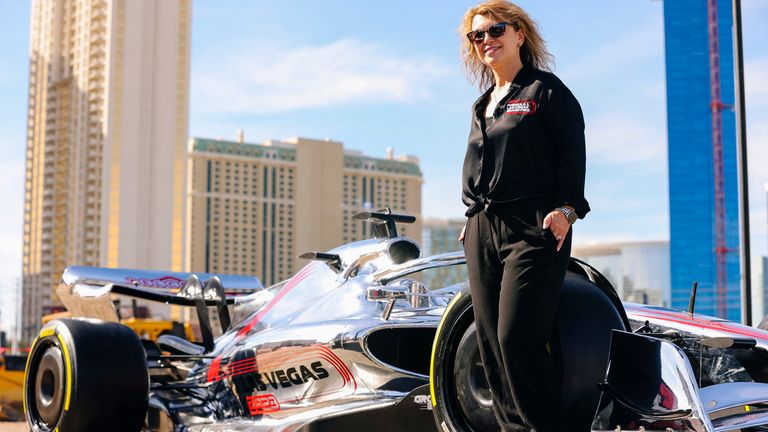 "It is one of the biggest projects Liberty Media has ever worked on and obviously the first time that Formula 1 and Liberty media are self-promoting a race."
While Ariane Frank-Meulenbelt has run the Hungarian Grand Prix since 2012 after taking over the role from her father Tamas Frank, she has been alone as a female race promoter despite the sport's ever-growing calendar.
Wilm is hopeful that her position of promoting the race in Vegas, which has a three-year deal with F1 and appears likely to remain a long-term fixture on the calendar, can encourage a new generation of women to pursue careers in motorsport.
"I don't often think about the fact that I'm a woman running the project," she said. "I just think about the project, but to take a step back for a moment.
"I do think it is incredibly important to the future generations of women who seek to be at executive levels in business, who want a career in motorsport, whether that's in the driver's seat or in the engineering staff or on the business side of it.
"And to really be able to help pave that roadway for the future generations, I do think is incredibly important."
Wilm isn't the only woman in the room either.
"My team here is also run by women. (Chief commercial officer) Emily Prazer, (senior director of race operations) Silvia Bellot, (vice president of event operations) Vanessa Anthes.
"We didn't go about putting the management team together with the intention to have four women running this event, but we have incredibly qualified, dedicated women of whom I'm incredibly proud."
F1 Academy set for future appearance in Las Vegas
In her day job with Liberty Media, Wilm has also been involved in the establishing of the F1 Academy, the all-female series which has just completed its inaugural season.
The series is designed to provide a motorsport pathway for young female drivers, and will further its links to Formula 1 next season by tying one driver to each of F1's 10 teams, and holding all of its races as part of F1 Grand Prix weekends.
It was perhaps surprising to see that Las Vegas was not one of the seven Grand Prix weekends chosen to host an F1 Academy event in 2024, but Wilm explained the reason for that is largely logistical.
"I would very much like to include F1 Academy (in Las Vegas) on a go forward basis," she said.
"We were not able to include them for next year due to the road closure requirements to which we have agreed. and we are not able to change those right now.
"I think once we get past year one and the locals become a little bit more comfortable with how this event will be able to unfold year after year, we will certainly be looking to make some tweaks to that schedule so that we can accommodate an F1 Academy race."
Get ready for the big one: Formula 1 in Las Vegas! See drivers race down the Strip, and past landmarks like Caesars Palace and the Bellagio, on F1's newest street track. Watch the whole Las Vegas GP weekend live on Sky Sports F1 on November 17-19. Stream F1 on Sky Sports with NOW