Toto Wolff: "We understand our mistakes and can explain our performance loss to the field"; Mercedes now ready for "big challenge" of all-new Las Vegas Strip Circuit;
watch the Las Vegas GP live on Sky Sports F1 from Friday morning, with Sunday's race starting at 6am
Last Updated: 13/11/23 4:30pm
Mercedes boss Toto Wolff says the team "understand our mistakes" that led to their dismal performance in the Sao Paulo GP and are now looking forward to the "big challenge" that awaits the sport on the new Las Vegas GP street circuit.
The former champions experienced what Wolff described as the worst weekend in his 13 years in F1 last time out in Brazil, with what the team believed was a set-up miscue giving way to major struggles for pace and tyre wear.
Speaking in the team's Las Vegas GP preview, the Mercedes team principal said they now know what went wrong with setting up the W14 for Interlagos, although did not elaborate specifically on what that was.
"Brazil was probably our most difficult weekend of the season," said Wolff, whose team finished seventh with Lewis Hamilton and retired George Russell's car due to overheating.
"After promising performances in the US and Mexico, we didn't perform at our best in Brazil. We have been hard at work to identify the wrong turn we took with the set-up; we have done that. We understand our mistakes and can explain our performance loss to the field.
"That's important as we look to secure P2 in the Constructors' Championship."
Mercedes, whose advantage over Ferrari for second in the standings is 20 points, will now look to hit straight back in the season's penultimate round at the all-new Las Vegas GP this weekend.
The Las Vegas Strip Circuit is headlined by a 1.4-mile flat-out section down the famous Las Vegas Boulevard, passing many of Sin City's most iconic landmarks, and is the second-longest on the 2023 calendar.
Qualifying (12am local time; 8am Saturday UK) and the 50-lap Grand Prix (10pm local; 6am Sunday UK) are unusually late at night and temperatures are expected to be around 10-degrees Celsius.
"We have prepared the best we can, using the limited information we have, and there are some unique characteristics we can anticipate," said Wolff.
"The schedule is offset compared to other races. We'll be running at night, where ambient and track temperatures will likely be in the single digits. Plus, the track layout itself is unusual with many slow corners but long straights. It's going to be a big challenge for us all and we're looking forward to taking it on."
Button: Merc face 'difficult' challenge to catch Red Bull – but 2024 F1 'upset' possible
Sky Sports F1 pundit and former world champion Jenson Button believes Mercedes and the rest of chasing pack do face a "difficult" task to catch champions Red Bull going forward but is optimistic that gap will close further into 2024.
Button was speaking to Sky Sports News ahead of the launch of the new documentary series Brawn: The Impossible Formula 1 Story, which stars Keanu Reeves, with all episodes launching on Disney+ (which can he accessed on Sky Q and Sky Glass) on Wednesday November 15.
It was Mercedes who bought Brawn at the end of 2009 after a fairytale-like single season for the Brackley-based team under that name, when Button won the drivers' title and the Ross Brawn-owned team the constructors', following previous owner Honda's sudden withdrawal from F1.
Mercedes subsequently went on to rewrite the sport's record books from 2014 but have now been usurped by Red Bull, who have dominated the past two seasons.
Asked if Mercedes required a similar leap in performance to Honda/Brawn in the winter of 2008-2009 to get back to the front, Button replied: "You don't have the rule changes that we were lucky enough to have. I also think the sport is even more competitive now.
"There are so many big teams fighting at the front and one tiny slip up and you're the fourth-best team. So to catch Red Bull is difficult, but they are getting closer.
"Brazil wasn't a great example but this second part of the season you have seen teams like McLaren, Mercedes both fighting very closely with the Red Bulls. Max [Verstappen] has had that little advantage, but his team-mate hasn't.
"We could have an upset next year. I don't think it's going to be all Red Bull's way. This year was an exceptional year for that team, and I don't feel it will be the same next year, which is what the sport needs. We need a little bit of a mix up."
'Eyes of the sporting world on F1' in Vegas
Formula 1 is effectively taking over Las Vegas this weekend, with the famous Strip and a number of other key roads around the casino district shut for the track sessions.
It becomes the sport's third race in the USA, after Austin and Miami, and is set to be its biggest event yet.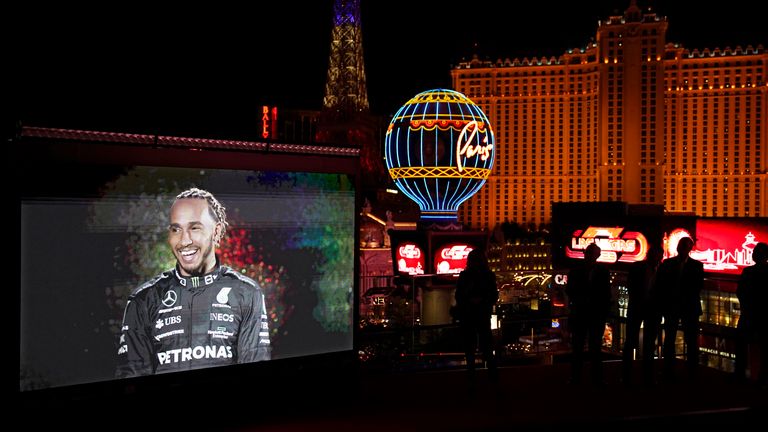 "It will also be an immense effort off-track. We have an impressive guest hosting programme including our own three-storey Vegas Club next to Turn Four," added Wolff.
"Media interest will be through the roof and seeing the cars race down the Las Vegas Strip will be one of the most exciting moments of the season. The eyes of the sporting world will be on F1, and we look forward to putting on a spectacular show. It is going to be something truly special to witness."
When to watch the Las Vegas GP live only on Sky Sports F1
Thursday November 16
5:30am: Drivers' Press Conference (reshown at 8am and 10:45am)
1:45pm: Las Vegas GP Opening Ceremony
Friday November 17
4am: Las Vegas GP Practice One (session starts at 4.30am)
7:45am: Las Vegas GP Practice Two (session starts at 8am)
9:15am: The F1 Show: Las Vegas
Saturday November 18
4:15am: Las Vegas GP Practice Three (session starts at 4.30am)
7am: Las Vegas Grand Prix Qualifying build-up
8am: Las Vegas GP Qualifying
10am: Ted's Qualifying Notebook
Sunday November 19
4:30am: Grand Prix Sunday: Las Vegas GP build-up
6am: THE LAS VEGAS GRAND PRIX
8am: Chequered Flag: Las Vegas GP reaction
9am: Ted's Notebook
Get ready for the big one: Formula 1 in Las Vegas! See drivers race down the Strip, and past landmarks like Caesars Palace and the Bellagio, on F1's newest street track. Watch the whole Las Vegas GP weekend live on Sky Sports F1 on November 17-19. Stream F1 on Sky Sports with NOW