Goal celebrations. Are they a euphoric burst of joy to treasure or just a waste of time?
Well, as far as former England forward Nigel Clough is concerned, they are not worth the energy – and he has his Mansfield Town side keeping a lid on things.
See, the 57-year-old is no fan of celebrating anything until the job is done.
Think Rodri's knee slide when putting Manchester City 4-3 ahead against Chelsea, in their thriller that ended in a 4-4 draw. Then there is the shirt off, muscles out, run to the corner flag effort from Anthony Elanga when he put Nottingham Forest 2-1 up against West Ham, who then battled back to down Clough's former side.
While Clough himself steered clear of any specific examples, he said: "I don't really see the point of celebrating goals when the game is still in the balance.
"If you score a last-minute winner and you know it's almost the last kick of the game, then by all means. But do your celebrating at the end of the game, which is why we [Mansfield] always go over to the supporters."
'It's over the top'
Clough's League Two Stags have had plenty to celebrate this season, having equalled a club record uneaten run of 20 games in all competitions. Still, they remain that last remaining unbeaten side in in the fourth division as they fly high in third.
And yet, almost all Mansfield's goal celebrations have been kept in check.
When asked about it by BBC Radio Nottingham, Clough unloaded.
"Yes, you have that individual moment when you do score, but I think it goes a bit over the top," he said.
"Be a bit more reserved about it, save your energy certainly – because when they kick off you have to go get the ball back.
"And at the end of the game, if you have been lucky enough to have won, then that's the time to celebrate."
"Even the end of the season, because yes you celebrate each win, each unbeaten game, but then if you don't achieve anything it's a little bit wasted.
"But the individual games are important to recognise when we have this great record. We have just won for the first time at Salford when we haven't been brilliant – we dug in and won, scored two good goals and that in itself is worth a little celebration, but nothing over the top."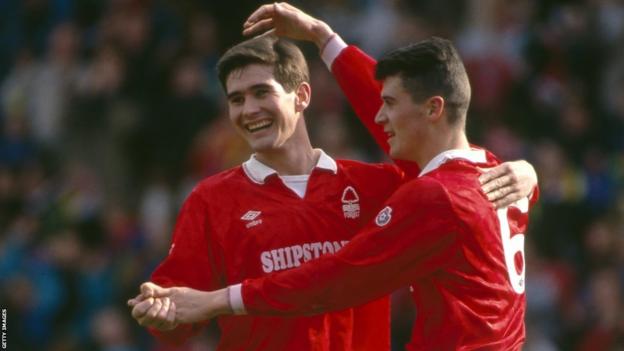 Clough has been in management for 25 years now, overseen a number of promotions at Burton and took Sheffield United to FA Cup and League Cup semi-finals when they were a League One side, but has not forgotten what it was like to be a player.
He scored more than 100 goals for Nottingham Forest and went on to bag a few more for Liverpool and Manchester City, after his first spell with the Reds under his father Brian ended in 1993.
And what was he like when marking those strikes?
"You got a little pat on the back, a pat on the head or someone shook your hand – people like Ian Bowyer or Garry Birtles, who have have won European Cups.
"And even when you see them scoring in semi-finals of the European Cup, or even the final, there was no everyone running into the corner flag and everything because they knew then that once they kicked off, you need all the energy you have got to get the ball back to try preserve your lead, or increase it or whatever."