Sky Sports Racing's senior form analyst Jamie Lynch assesses the 14 runners in the November Handicap at Newcastle which is live on Sky Sports Racing on Saturday…
It's the November Handicap, Jim, but not as we know it. The rearrangement from Doncaster to Newcastle has moved the goalposts, first and foremost the switch in surface, helping some and hindering others.
The field is smaller than the usual 20+, all of which makes it a rather more ordinary handicap than traditionally, though no lesser a standard, all bar two of the field running off a mark of 90 or higher. Let's go through them…..
TEUMESSIAS FOX
Jockey: Callum Hutchinson (3) | Trainer: Andrew Balding
He's one for whom the switch to synthetics is probably a positive considering his last two all-weather attempts resulted in wins by eight-and-a-half lengths and four-and-three-quarter lengths. Has been freshened up for this since an unlucky fifth under top weight in the Racing League event that worked out the best in the entire series, and Callum Hutchinson's claim effectively brings his mark back to sub-100, which is well within his means. Plenty of upside.
MR ALAN
Jason Hart | George Boughey
Would have been challenging for favouritism if the race was at its natural home of bad ground Doncaster as he's in his element under such conditions, emphasised this autumn, when he has been successful at Nottingham and just pipped at Newmarket last week, proof he's better than last year (fifth in November Handicap), also fresher, after his return was delayed until September. This is one instance where the destination matters more than the journey, Newcastle less compatible with him than the Doncaster mud.
CHILLINGHAM
PJ McDonald | Ed Bethell
Maybe the tongue strap is the answer to the question of what's missing? It's because of his dynamic development up to and including Royal Ascot (fourth to Vauban and Absurde) that the question has come up since, twice beaten favourite and short of something, hard to know exactly what. But the break is the refresher and the tongue tie is the remedy, potentially at least, and there's definitely a sense of unfinished business about him. P.J McDonald is one/one on him.
EUCHEN GLEN
Paul Mulrennan | Jim Goldie
A winding-down warrior, Father Time meeting Mother Nature, hence it's two-and-a-half years since he last won. Remarkably ran in this race way back in 2017, unthreatening then and again in 2020, though he was a short-head second in the Northumberland Vase in 2018, the only time he's been on the all-weather in the last six years.
LOCAL DYNASTY
William Buick | Charlie Appleby
Started the season on the periphery of the Derby picture, reappearing in the Dee Stakes, but he got stuck in the departure lounge like most of the stable's three-year-olds, not taking off there nor in handicaps at Royal Ascot and the July Festival. The reset button has been pressed with the lay-off and the gelding operation and if there's a horse who'll take this race apart then it's him, but it's hard to suck up the short odds when he's having his first go at the trip and on the all-weather.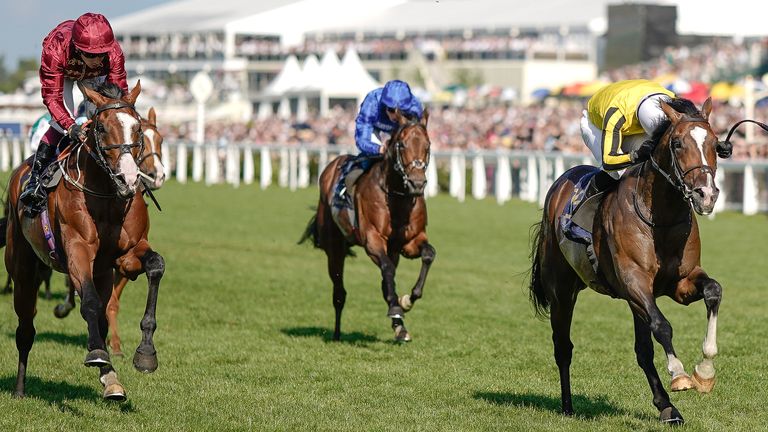 PRYDWEN
Sean Levey | George Scott
Beat one home in the 2022 November Handicap but he's not a mudder, and the switch to synthetics this time is music to his ears, having won three times on the all-weather. A mark in the mid-90s has seemed his tipping point, but that's why first-time cheekpieces have been enlisted, and he's been freshened up for this, off since August. The fact he goes so well on Tapeta should see him beat more than beats him.
LAAFI
Cieren Fallon | William Haggas
You don't see many William Haggas handicappers go off at 20/1 but the fact Laafi did at Newmarket reflected a stuttering season to that point, a corner turned, so says his smooth success, but the dynamics are decidedly different here, including the fundamentals of trip and ground. What's more, he won't be allowed the easy lead which was the process if not the power behind his Newmarket reawakening.
PLEASANT MAN
Dylan Hogan | Jack Jones
Looked the right raw material for hurdling as a three-year-old, the reason why he cost 175,000 guineas to get him on Paul Nicholls' team, but his heart was never in it, and now he's having to start again from scratch for a new yard, on a new surface to him.
BERAZ
Graham Lee | Julie Camacho
Phase Three is going well, one having been his foundation in France and two his short and sour spell as a hurdler. Bar one blip he has gone from strength to strength in his time with Julie Camacho and the 3lb rise for his latest win at Leicester looks lenient given that was an especially strong 0-90, not to mention that 10f is a bare minimum for him. From profile to form and approach, every box is ticked except all-weather, having never before experienced it, not that it's much of a reason to hold back these days.
SPLENDENT
Luke Morris | Paul and Oliver Cole
Had a Hungarian hotspot this summer under Frankie Dettori but in and around that he's just appeared to find a mark in the 90s a bit beyond him. The plus points if you want them are that he won at Newcastle in his younger days and maps to be better placed than most in a race that may turn tactical.
FURZIG
Billy Garritty | Richard Fahey
Wouldn't have made the cut on turf, where his mark is only 78, but his split rating (90 on all-weather) gets him entry, and he was higher still – raced off 100 – the last time we saw him on synthetics. In short, circumstances have given him a chance, as has the handicapper, but aged eight it's still asking a lot of him to outrun the younger guns, even if he is a five-time winner on the all-weather.
ONESMOOTHOPERATOR
Ben Robinson | Brian Ellison
Out of the winning habit but back on the boil lately and this is a home fixture for him, in the first three on seven of his nine runs at Newcastle. This race is little or no better than the 0-105 in which he wasn't beaten far into fifth over this course and distance last month, and he's a lively longshot, more so if the gallop is stronger in practice than on paper.
MUSTAZEED
Kaiya Fraser (5) | Harry Eustace
The race rearrangement has compromised his chance as Doncaster – where he was beaten only by a resurgent Certain Lad last time – and soft ground have served him well, whereas he's zero-five on all-weather. More of an issue than the Tapeta is the trip, as he's fairly late in life for a departure in distance, going beyond 10f for the first time.
STRUTH
Joe Fanning | Charlie Johnston
His winning return at Chester back in May was something of a false dawn as it has been sideways ever since, holding his own all the same, including in the high-value Old Rowley Cup last time at Newmarket where he maybe did too much too soon. A three-year-old from that stable lurking at the foot of the weights is an enticing proposition, though this will be his all-weather debut.
JAMIE LYNCH'S VERDICT
Litigant in 2015 is the only top weight to win in the last 25 years, but the fact this is a November Handicap with a twist – on the all-weather with a smaller field – may mean that class counts, and TEUMESSIAS FOX fits the bill perfectly as one who was twice fourth to Hamish in Group Threes this summer and is a benefactor of the synthetics switch given his proficiency and efficiency on the all-weather.
Watch all the action from Newcastle on Saturday live on Sky Sports Racing.