The Lionesses' success on the world stage captured global attention but they are not the only England women's team thriving since Sarina Wiegman joined the Football Association.
When Dutchwoman Wiegman was named England manager in September 2021, she planned out what she needed to achieve success and on her list was a restructuring of the age-group teams.
Hit by the Covid pandemic, England's youngsters were starved of competitive football – but that has now changed as the FA has helped to build new development squads and competitions.
'It's been really refreshing'
England's development squads did not play competitive football for around 18 months due to Covid in 2020 and 2021.
Before that, changes made by Fifa – increasing the top level of its age-group competitions from under-21s to under-23s – meant the youth squads have had many structural changes and had not fully settled since the departure of senior manager Hope Powell in 2013.
A major review took place in 2018 and the FA's head of women's development Kay Cossington played a vital role in aligning England's development squads with their rivals such as Spain, who were reigning European and world champions at under-17 level and European under-19 champions in 2018.
Post-Covid, respected youth coach Mo Marley came out of retirement to oversee a new under-21s squad – which would later become the England Under-23 team – and worked closely with Wiegman to help bridge the gap with the first team.
"We cannot underestimate how especially important it is for our younger age groups to be getting these kinds of games," Wiegman said at the time.
"To play against different nations and experience new styles and surroundings is so helpful. For those coming through, they can grow as people as well as players."
Among the players to make the jump in recent years have been goalkeeper Emily Ramsey, defenders Maya Le Tissier, Anna Patten and Lucy Parker, and attackers Ebony Salmon, Jess Park and Katie Robinson.
On-loan Tottenham midfielder Grace Clinton and Manchester City goalkeeper Khiara Keating were also called up for the first time in Wiegman's most recent England squad, with the manager citing their performances for the under-23s as factors in her decision.
"It has been really refreshing for the under-23s because she is present," said Marley in January 2022.
"She has been in and around the sessions so every day the players have a chance to show their own personal development."
'They are ready-made when Sarina wants them'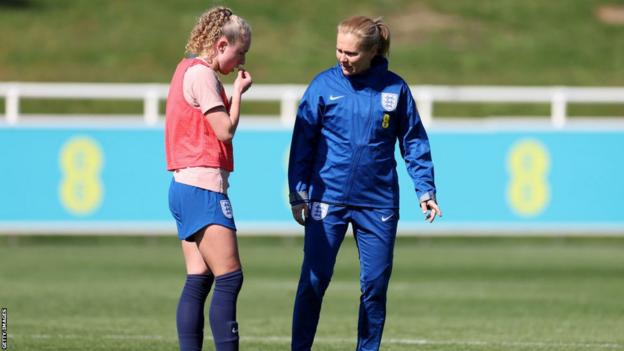 Now, almost two years on from the restructuring, the England Under-23s are thriving.
Under the management of Emma Coates, they are unbeaten this year, having teamed up with eight European nations to form a competitive league that will run throughout the 2023-24 campaign.
There is still some way to go to catch up with Spain, who have dominated youth football while claiming the world crown at senior level. England did not qualify for the Under-20 and Under-17 World Cups in 2022 or the European Under-19 Championship in 2023 for example.
But with further coaches added to the squad this summer – retired midfielder Remi Allen joining ex-England international Anita Asante and former Aston Villa boss Gemma Davies – England's youngsters are on the rise.
"It's so important, isn't it?" Coates told BBC Sport. "Everyone has seen how quickly the game is growing and how big that gap between the under-19s and the senior team was getting.
"The fact we have a formalised competition structure now means we can engage the players and keep them connected with the style of play. When they go up to the senior squad, it makes that transition easier."
Brighton forward Robinson, 21, was part of the senior squad that reached the Women's World Cup final in August – although she missed out on Wiegman's selection in October.
She received her first call-up in November 2022 and Wiegman said at the time that Robinson had "done well for the under-23s" but wanted to test her in a more competitive environment.
"We meet with Sarina and the rest of her technical team weekly," said Coates.
"Hopefully that helps the players in the way we work. We don't just have players going up to the seniors, we have players coming back into us too and that helps with player development.
"It's really important to connect to England – who we are, the identity, the style of play – and to work with these players so they are ready-made when Sarina wants them and needs them. That's the plan anyway!"
'We play as if Sarina is watching every day'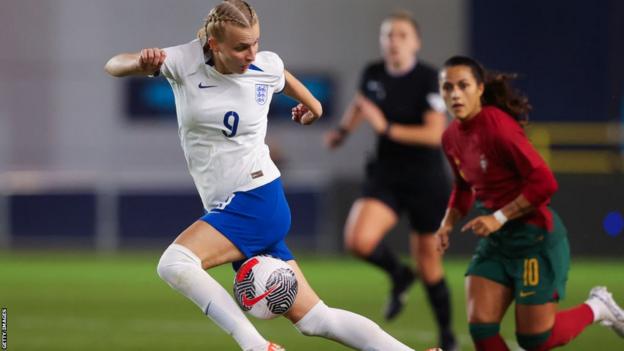 Robinson was with England's Under-23s as they drew 1-1 with Italy and beat Portugal 2-0 in October and her experiences have given team-mates a thirst for senior selection.
"[Robinson's] been brilliant. She came back here and acted like it was a senior camp, which I think any of us would do if we got called up and came back down," Chelsea forward Aggie Beever-Jones told BBC Sport.
"She demands standards from everyone and you can see that across the board. Our performances are definitely improving and we want to take that forward."
Beever-Jones is among a number of talented youngsters already enjoying personal success in the Women's Super League.
She had a successful loan spell at Everton last season, before returning to Chelsea in the summer and has just scored in three successive WSL wins over Brighton, Aston Villa and Everton.
Seeing youngsters Clinton and Keating rewarded for their WSL form with a place in Wiegman's latest squad has given Beever-Jones an added boost.
"We want to make that push into the senior squad. To see the likes of those players doing it, it fills me with motivation to do that myself," added Beever-Jones.
"We play as if Sarina is watching every day. We don't spend a lot of time together as a team, but it gives us the opportunity to build relationships and show good phases of play. We want to replicate what the senior team are doing.
"The more people that get called up, the more it shows the pathway is working. If you trust in the coaches and do what we need to do, then we know we are making Sarina happy – and also England."