Previously unexpected results are rapidly becoming the norm in the Women's Super League – this was definitely one of them.
Brighton finished only five points clear of relegation last year and they had never beaten Manchester City before.
But on Sunday that all changed – Manchester City had 35 shots, Brighton only had six, but it was the Seagulls who emerged on top.
Lee Geum-min combined with Pauline Bremer for the only goal with fewer than 10 minutes remaining and Brighton – against all odds – completed a smash-and-grab victory.
City are one of the traditional WSL title contenders, but this season has shown that the gap between them and the rest of the division is closing.
Manager Gareth Taylor thought it was one of City's "most disappointing" performances of his three-year tenure.
Brighton boss Melissa Phillips said: "Gareth and I spoke about it before the game, every team has improved over the summer and every game has become a lot more competitive.
"And we're certainly one of those teams who have improved and have high ambitions."
The opening day brought about the season's first shock as Liverpool, starting their second campaign since returning to the top flight, beat Arsenal, before Leicester drew with Manchester United.
Brighton took the baton last weekend, as United were left to celebrate an equaliser in the eighth minute of stoppage time in a game for which they had undoubtedly been favourites.
Teams have invested as they look to reduce the gap between the traditional heavyweights and the rest – and Brighton fit that category.
Phillips added: "The club's not been shy about sharing their ambition towards the top four and that's not anything with a definitive timeline. That's just something we have to be moving towards every single day with the actions we take on and off the pitch.
"The club's been incredibly supportive with the transition of players and staff over the summer, and their support of me in this being a long-term project.
"We all want to go from the bottom of the mountain to the top in one step, but we have to take small steps to get there and this is certainly one."
'We were off the pace'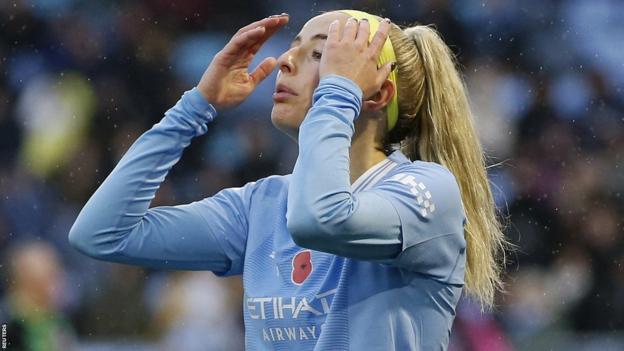 City were dominant against Brighton, hitting the woodwork through Chloe Kelly and Lauren Hemp, but could not find what they needed to break the deadlock, falling to their second defeat in six WSL games.
"We just didn't seem like ourselves today, all over the pitch," Taylor said. "Apart from Khiara [Keating] and Chloe, we were really flat. There was something missing, I don't know what it was.
"There were some decent moments where we moved the ball well and created but it felt like we clutched at opportunities a little bit.
"Sometimes you have games like that where no matter what you do, how many times you knock on the door, it just doesn't go for you. For me it's more [feeling] a little bit disappointed with how we played and how we dealt with those moments.
"We were off the pace, off half a yard with our passing. We didn't have our normal clicking in-game moments."